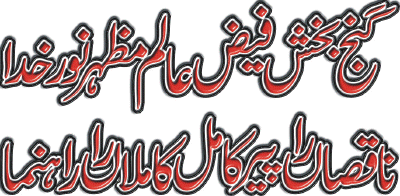 980th URS Sharef Will Be On 05-06-07 Sep 2023 Inshallah





























Download Schedule Of URS Mubarak Size : 144 MB
URS Mubarak Of Hazrat Data Ganj Bakhsh (r.a) Starts Every Year In Safar-ul-Muzaffar (From 18 Safar To 20 Safar). Millions of Moetqadeen From All Over The World Visit Darbar Shareef Hazrat Data Ganj Bakhsh At Bhatti Gate Lahore Each Year And There Will be Special Security Arrangements On Darbar Shareef During Urs Days To Prevent Any Trouble. It Is Advised To All Visitors That Please Do Not Take Any Luggage With You When You Visit Darbar Shareef During Urs Shareef. For More Information Please Contact Us +92-300-6561240.
---
---

Hazrat Data Ganj Bakhsh
A Project of Allah-o-Akbar Services Center Pakistan
Designed, Maintained & Managed By Dr. Zia-al-Hassan ( PAKISTAN )

We Are Updating This Web Site After Every 4 to 7 Days. Please Visit Again Soon. Thank You.
Data Darbar Is Situated Near Bhati Gate Lahore and Administrated By Department Of Auqaf Punjab Pakistan




^v^v^v^v^v^v^v^v^v^v^v^v^v^v^v^v^v^v^v^v^v^v^v^v^v^v^v^v^v^v^v^v^v^



This New Service Launch Data Is March 24, 2007, Sunday

^v^v^v^v^v^v^v^v^v^v^v^v^v^v^v^v^v^v^v^v^v^v^v^v^v^v^v^v^v^v^v^v^v^